Alli Sports; a division of the NBC Sports Group, today announced iON Worldwide as the official camera partner of the 2012 Dew Tour. iON Worldwide, a global consumer electronics company, completes the Dew Tour's roster of blue-chip partners entitling the iON Mountain Championships, held Dec 13-16 in Breckenridge, CO.
iONWorldwide's multi-year commitment to the Dew Tour, as an event title sponsor, demonstrates the company's investment in the progression of action sports, as well as the brand's commitment to allowing  users of its iON Air Pro™ HD sports video camera to shoot and share their moments. The company also reinforced its commitment to the action sports community with new partnerships with iconic athletes: BMX rider Corey Bohan, surfer Reef McIntosh and FMX rider Jeremy "Twitch" Stenberg.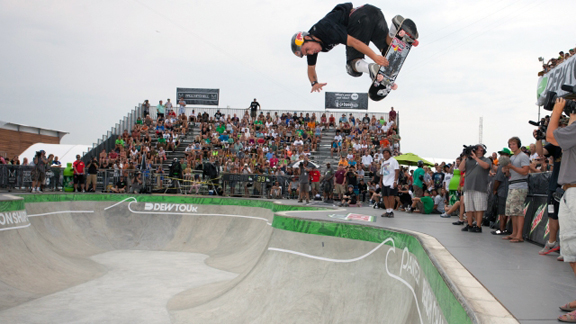 iON's ground breaking entrance into action sports features its Air Pro HD camera with Wi-Fi PODZ™, the first action camera that lets users shoot their most exciting moments and then immediately share them with friends through the iON smartphone and tablet app. The app also acts as a powerful remote control – allowing users to change settings and start and stop video recording on the go.  In addition to high-definition video resolution, it has built-in Wi-Fi connectivity that allows users to view the action as it happens as a live stream and replay or immediately upload footage to Facebook, YouTube or email.
"It is very exciting to partner with iON and help to bring its progressive technology to the action sports market," said Alli Sports President Wade Martin. "iON's unique product gives us more opportunities to support the creation and sharing of action sports content across the globe."
"We're thrilled to be a sponsor of the Dew Tour", saidiON Worldwide CEO Giovanni Tomaselli."Ahuge part of the action sports culture is not just living the moment, it's also about capturing that moment to share with friends and fans. Our iON Air Pro cameras with Wi-Fi make this easier than ever. We are looking forward to enabling NBC Sports crews, top athletes and fans to capture the action in new ways and then share it as they've never been able to before."
iON will be the title sponsor of the Dew Tour iON Mountain Championships in Breckenridge, CO. The Dew Tour will be returning to Breckenridge for a winter action sports event that will bring the best in skiing and snowboarding to the snow for competitions in superpipe, slopestyle and more.
Dew Tour action can be seen on NBC and NBC Sports Network