Anyone who follows GadgetsBoy on YouTube, Instagram, Twitter and everywhere else will know that we've been on many Royal Caribbean Cruises (launch ones) before, and each one has proven to be spectacular each and every time.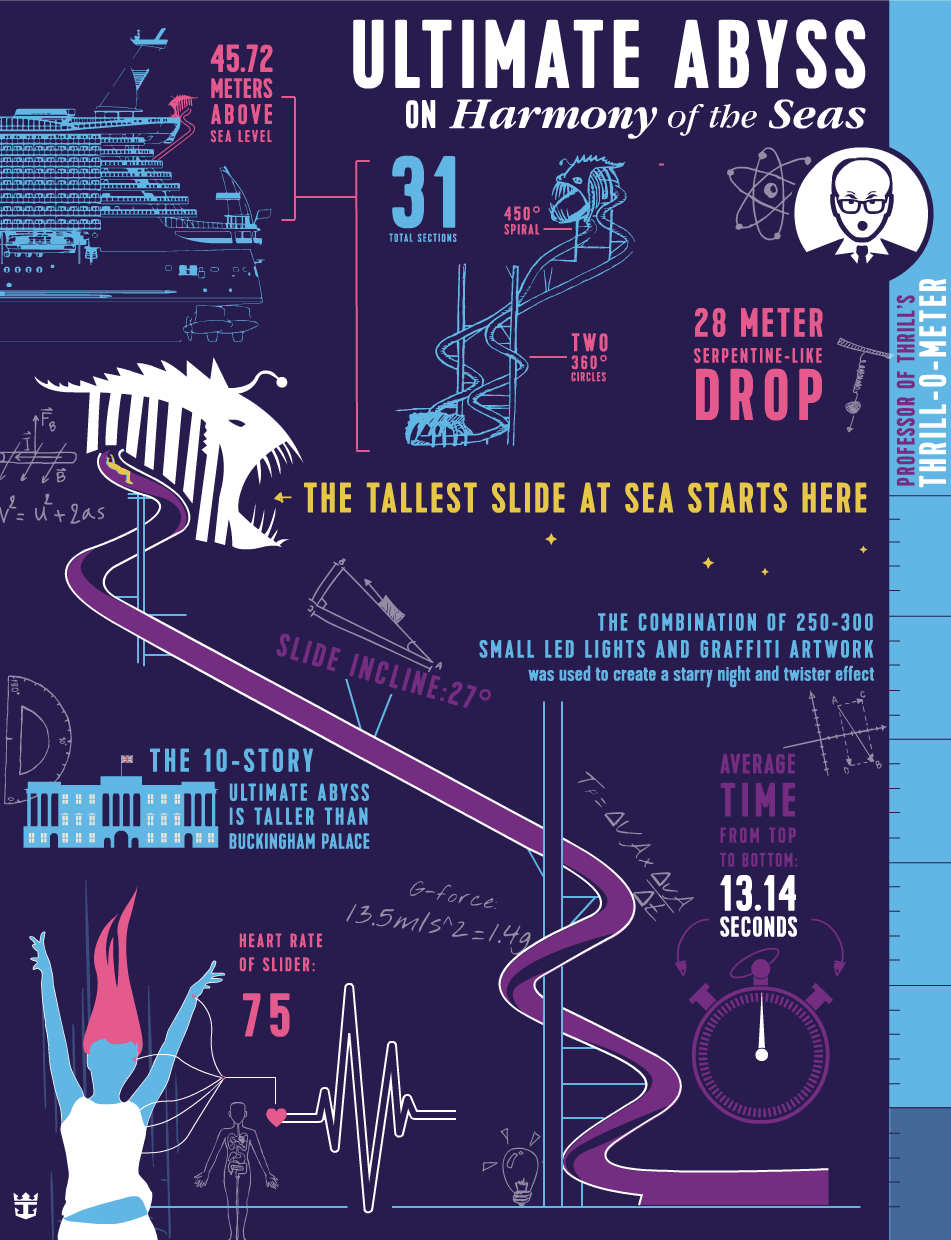 This time, we went on the world's largest cruise ship! Costing $1.5billion, Harmony of the Seas is the 25th ship in the Royal Caribbean fleet and boasts highly anticipated first-at-sea experiences.
The first one we went on had the fastest broadband on sea, the second had a London eye-style pod to get a better view when near a destination, this time, it's the size and the amount of things you can do for the first time at sea.
The Harmony of the seas is packed with 18 decks, 2,747 staterooms, 23 swimming pools, 42 bars and lounges, 10,587 plants, over 500,000 individual parts.
As if all that's not enough, there are seven distinct 'neighbourhoods' including a theatre, spa, shopping district and even an ice rink.
Example from our previous trip:
So just how big is this cruise ship and what are the first at sea experiences?
It features:
A 100-foot drop with Ultimate Abyss, the tallest slide at sea, plunging courageous adrenaline seekers 10 storeys down from Pool Deck to the Boardwalk on deck 6
4,700,000 lbs. (2,150 tons) of water across 23 swimming pools, whirlpools, two FlowRider surf simulators and waterslides, including the Perfect Storm, a thrilling trio of waterslides, and the Splashaway Bay waterpark for young guests
The first double-storey Wonderland, the speciality restaurant concept first introduced onboard the global cruise line's Quantum class of ships, delivering an imaginative feast for all the senses
The debut of Broadway's hit musical Grease in the Royal Theatre and spectacular diving shows in the AquaTheatre
11,252 works of art showcased throughout the ship and Central Park, a living park in the centre of the ship which features a total of 10,587 plants, 48 vines and 52 trees, some over 20 feet (6.1 metres) high
Even a Free runner can do some crazy sh*t on there!
Disclaimer: RCCL took us on a two-night trip to experience the ship and see for ourselves. All opinions are still GadgetsBoy's.