Is it a smartphone or tablet? It's neither … and it's both. You decide!

A dual-screen 2-in-1 device that combines the best of smartphones and tablets that allows anyone to truly multitask their applications for maximized productivity, unparalleled fun and effortless connectivity.
Details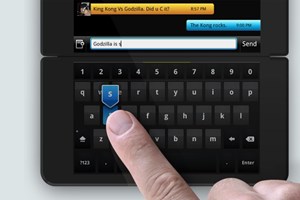 The two 4-inch screens each have a WVGA resolution, the combined results in 800×960 pixels available. The AMOLED screen is implemented as the design is deliberately minimalist and slim. Thus, the prototype is also because, despite the dual-screen design in its folded state, only about 50 percent thicker than an iPhone 4 Open results in a value of just 7mm – and thus the device is much slimmer than virtually all other smartphones currently available.